"White sauce"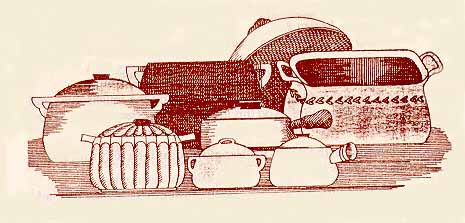 ¼ tablespoons butter
4 tablespoons flour
2 cups milk
1/3 teaspoon salt
1/8 teaspoon pepper
1½ cups grated cheese
Melt butter in a saucepan over low heat. Mix in flour and cook slowly for 2 to 3 minutes, stirring constantly. Gradually pour in milk and stir vigorously to thoroughly mix. Cook for 3 minutes until sauce is smooth and thick. Strain if there are any lumps. Add cheese, salt and pepper. Heat only until the cheese melts into the sauce.

Pour sauce over cauliflower to cover completely. Bake at 250°F for 35 to 45 minutes or until top is slightly brown..
---
"Variation"
One 12 oz. bottle ketchup
8 oz. water
1 piece sour salt
1 tablespoon sugar
Mix the above ingredients together. Prepare cauliflower as directed above, omitting cheese. Cover cauliflower completely with this sauce and bake at 300°F for 35 to 45 minutes.
---
"Ponche Crema" (Caribbean Eggnog)
4 beaten egg yolks
1 tin condensed milk
1 cup rum or brandy
1 teaspoon vanilla
Beat all the ingredients together well and pour into a bottle. Keep refrigerated.

---

"Ketchap Manis"

This is a common ingredient in Indonesian and Curaçaoan cooking similar to soy sauce, use this recipe.
1 cup firmly packed dark brown sugar
1 cup water
1 cup Japanese soy sauce
7 tablespoons dark molasses
1 teaspoon grated fresh ginger
½ teaspoon ground coriander
½ teaspoon freshly ground pepper
Combine sugar and water in a 2-quart saucepan. Bring to simmer over medium heat, stirring just until sugar dissolves. Increase heat to high and continue cooking until syrup reaches 200°F on a candy thermometer, about 5 minutes. Reduce heat to low, stir in remaining ingredients and simmer 3 minutes. Makes about 3 cups. This will keep 2 to 3 months tightly covered and stored in the refrigerator.
---
"Peanut Sauce"
½ teaspoon onion powder
½ teaspoon cumin
½ teaspoon garlic butter
½ teaspoon curry powder
½ teaspoon hot pepper (sambal)
5 to 6 tablespoons Ketjap Manis
¼ cup water
Salt and pepper to taste
½ cup peanut butter
Place peanut butter and water in saucepan and stir over gentle heat until mixed. Remove from heat and add all other ingredients. The sauce should be a thick, pouring consistency. Adjust seasonings if necessary.