"AYACA"
3 lbs. Chicken
¼ lbs. prunes
¼ lbs. Raisins
1 pc of graded cheese
2 can of water (small)
1 pack of bread-dough
2 green peppers
parley
pickels
green olive
silver onion
STEAMING OF THE CHICKEN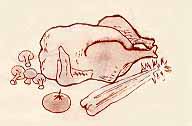 Clean the chicken properly with lemon.
Season it good with:
salt
pepper
nutmeg
1 spoon of curry
maggi
2 or 3 cubes of chicken broth
onion
garlic
Cumin
Tomato
Cook the chicken with a lot of saus for a good color.
Always put a little white wine. Also cook the chicken with a lot of oil and butter.
When the chicken is steamed, you have to take out the bones and drain the saus for the though and use leftover sauce will go over the chicken.

PREPARATION OF THE DOUGH

3 cups of bread-doug (for the quantity of chicken).
4 ½ cups of milk mixed in hot water.
Put the milk in a deep dish.
Put salt and 3 tea-spoonsof sugar and ½ teaspoon of Cumin powder.
Mix all in the milk and stir slowly, not to leave chunks.
Let it stand for 5 minutes, before working with it.
Pour the cheese and a little sauce of the chicken.
Roll properly with a spoon untill it stayssoft.
The dough can't be soft nor hard.
Cut Banana leaves, put the dough on top of it and spread it properly.
First put the chicken, then the other ingredients, and then close it up, put otther banana leaves and close it, holding (thightening) it together with a thin string.
Boil water with a little salt and vinegar.
Put the ayaka in and let it boil for 20 to 30 minuts.
Before taking out the ayaka of the banana leaves, pour some cold water on it.

p.s. Corn-Ayacas have to boil 1 ½ hours.

Following is the papiamentu version, since it is much better explained.
3 lb. galinja
¼ lb. preimu
¼ lb. Rasenchi
1 pida keshi raspa
2 bleki lechi awa (chiki)
1 paki harinja PAN
2 promenton
peterseli
augurk
aceituna
silver onion
SMOR GALINJA

Laba e galinja bon ku lamunchi.
Tempere bon ku:
salu
peper
netumuska
1 kuchara di curry
maggi sous
2 o 3 bouillon di galinja
siboyo
konoflo
komino
tomati
Kushina e galinja ku hopi sous i hopi kolo.
Pone semper poko binja aden. Tambe ta kushina e galinja ku hopi zeta i manteka.
Ora e galinja smor ta saka e wesunan i ta kola e sous pa e mansa i e temperonan ta bai den e galinja.

PREPARASHON DI E MANSA

3 kup di harinja PAN(pa e kantidat di galinja)
4 ½ kup di lechi bruha ku awa kayente
Pone e lechi den un forma hundu
Pone salu i 3 kuchara plat di suku i ½ kuchara komino (na puiru)
Bruha tur den e lechi i drei e poko poko pa e no hanja pipita.
Laga e para 5 minut prome ku traha ku ne.
Despues basha e keshi i poko sous di galinja
Manse bon ku un kuchara pa e keda suave.
E mansa no mester ta ni duru, ni moli.
Korta e blachinan, pone e mansa riba dje, habri e mansa bon.
Pone prome galinja, despues e otro spesereinan aden, despues sere i pone otro blachi i mare.
Pone awa herebe ku poko salu i 1 kuchara di binager.
Despues tira e Ayaca aden, laga e herebe 20 te 30 minut.
Prome ku saka nan, basha poko awa friw riba nan.

p.s. Ayaca di mainshi ta herebe 1 ½ ora.

---
"Keshi Yená" (stuffed edam cheese)
1 Edam cheese about 2 to 2½ lb..
2 lb.. fish, cleaned and deboned (tuna or salmon)
5 eggs
3 tomatoes, chopped and peeled
1 tablespoon tomato paste
2 sliced onions
1 small garlic clove
1 chopped green pepper
2 teaspoons Worcestershire sauce
¼ cup raisins or prunes
¼ cup sliced olives
1 tablespoon capers
1 tablespoon parsley
¼ hot pepper, minced or Tobasco to taste
2 tablespoons ketchup
2 tablespoons piccalilli
Salt and pepper to taste
Cut a small circle on the upper part of the cheese. Scoop out the inside, leaving a shell of ¼" to ½" inside.

Sauté the vegetables, seasonings and fish in butter, margarine or oil. Simmer until the tomatoes are reduced, about 20 minutes.
Beat 4 eggs and blend into mixture.

Generously grease a casserole or the top of a double boiler. Fill cheese with vegetables/fish mixture, cover with the lid and spread remaining egg on top of cheese as a sealer. Set the casserole in a pan of hot water and place in the oven at 350°F
for 1½ hours or the double boiler over simmering water with a lid for the same amount of time.

Alternate Method: Slice cheese about ¼" in thickness. Line a deep buttered dish or individual custard cups with cheese, overlapping edges. Place the filling inside, cover with cheese, brush with beaten egg to seal.
Serves 10 - 12

---
"Stobá di Kòmkòmber" (Curaçao Cucumber stew)
This vegetable is a mall, spiny, pale green cucumber with a long stem at one end. It is NOT to be confused with cucumbers used in salads.
± 3 lb.. lamb or beef
Salt, pepper, nutmeg, garlic and onion powders, Lea & Perrins and Maggi
±1 lb. salted beef
2 small finely chopped onions
2 minced garlic cloves
14 oz. canned tomatoes
2 chopped green peppers
1 lb. cubed potatoes
6 to 8 cups kòmkòmbers
8 tablespoons margarine
1 tablespoon tomato paste
1 tablespoon sugar (optional)
Remove stems from kòmkòmbers. Cut each into 4 to 6 wedges, wash and remove as many seeds as possible.

Season lamb with salt, pepper, nutmeg, garlic and onion powders, Lea & Perrins and Maggi sauces.

Put salted beef in water to cover and bring to a boil twice, changing the water after the first boil.

Sauté lamb with onion, green pepper, garlic and tomatoes. Simmer for 15 minutes. Add the salted beef and some water if necessary, but not too much as the kòmkòmber will later add its water content while cooking. Cook until the meats are nearly done. Add kòmkòmber, simmer for 5 to 10 minutes, then add the potatoes and tomato paste; cook until potatoes are done. Add margarine and blend well.
Serve 8.

Note: Green papaya or green beans can be substituted for the kòmkòmber using approximately 6 cups of either.

---
"Stobá di karni" (beef stew)
1½ lb.. cubed beef
Limes
½ teaspoon garlic powder
½ teaspoon onion powder
Salt and pepper taste
½ teaspoon nutmeg
1 tablespoon Lea & Perrins sauce
1 tablespoon Maggi
Dash of Tobasco or a sliver of hot pepper
1 sliced green pepper
1 sliced stalk of celery
1 sliced medium onion
1½ cups canned tomatoes
Oil for frying
4 tablespoons margarine
Wash the meat with limes and season with the next 7 ingredients and marinate for a few hours.

Sauté the green pepper, celery, onion and tomatoes in oil. Remove and brown the meat. Add vegetables and let simmer uncovered until meat is tender. Should the mixture start drying up, add water a little at a time. When meat is done, add the margarine.
Serves 4.

Note: potatoes, carrots or cabbage may be added to the meat while it is simmering.

---
"Meat loaf with eggs"
4 hard-boiled eggs
1 lb. ground meat
4 tablespoons bread crumbs
1 egg
2 teaspoons cumin
½ teaspoon salt
1/8 teaspoon pepper
3 tablespoons water
2 tablespoons tomato paste
Oil for frying (optional)
Mix together ground meat, bread crumbs, raw egg, cumin, salt and pepper. use half of the meat mixture to line a loaf pan. Place hard-boiled eggs on the meat. Cover with remaining meat.

Blend together water and tomato paste and pour on top. Bake in a 350°F oven for 1 hour.

Variation: Divide meat mixture into four balls. Place one hard-boiled egg into each ball. and with wet hands form the egg.
Fry each ball in oil and when brown, place in a covered pan with tomato paste mixed with water. Cook until meat
is done. Refrigerate, then slice, and serve.

---
"Arroz con pollo" (chicken with rice)
Lime juice
3½ lb.. of chicken parts
1 finely chopped large onion
2 chopped sweet peppers
3 minced garlic cloves
1 diced stalk of celery
1 chopped large tomato
Salt and pepper
3 chicken bouillon cubes
1 tablespoon parley
Sliver of hot pepper or a few drops of Tobasco
2 tablespoons oil
1 tablespoon Worcestershire sauce
2 to 3 tablespoons tomato paste
1 teaspoon cumin
¼ teaspoon turmeric
2 cups long grain rice
½ cup stuffed chopped olives
One 16 oz. can sweet peas
1 small can of pimento
Remove fat from chicken, cut into pieces, wash well with lime juice and season with salt and pepper. Add onion, sweet peppers, garlic, celery, parsley and hot pepper and let stand for an hour or so.

Sauté chicken with vegetables in oil until golden brown, add tomato, then tomato paste, Worcestershire sauce and cumin. Gradually add ½ cup water with 1 bouillon cube dissolved in it and simmer until chicken is almost done. Remove chicken from gravy, debone and set aside.

Sauté rice in a little of chicken gravy until well coated. Add sufficient boiling water and 2 bouillon cubes with the turmeric to make 3½; cups, add rice and bring to a boil over a high fire. reduce heat and simmer until most of the water has been absorbed.

Mix in chicken chunks, stuffed olives and simmer on a very low flame for 15 minutes longer. Just before serving, add drained peas and decorate with pimentos.
Serves 6.

Note: Beef sausage, cut into rounds can be added when rice is boiling, if desired.

---
"Curried peanut chicken"
2 small frying chickens cut into serving pieces or 3 lb.. chicken parts
¼ cup oil
2 teaspoons salt
3 teaspoons curry powder or to taste
1 large sliced onion
1 large green pepper, cut into strips
1 large tomato, skinned and sliced
¼ cup crunchy peanut butter
¼ cup water
Brown the chicken pieces in the oil. Stir the salt and curry powder into the drippings and cook, stirring, one minute.

Add the onion, pepper and tomato, cover and simmer 5 minutes. Add the chicken pieces, cover and simmer 30 minutes or until tender.

At serving time, remove chicken pieces and place in a dish or over rice if desired, and keep warm. Blend the peanut butter with the water and stir into gravy. Heat to boiling while stirring constantly.

Spoon enough sauce over the chicken to moisten and serve remainder separately.
Serves 6.